Read Time:
2 Minute, 27 Second
[ad_1]
As a front-drive-only vehicle, the Mazda5 is considered a minivan rather than a crossover utility vehicle or CUV. Vans meet different expectations in our lives than CUVs and not only does the Mazda5 meet the expectations of vans, it sets the bar in many areas of van driving.
In a small break with tradition, the Mazda5 side doors are sliders rather than opening in a conventional manner.
The design is pretty standard in that the Mazda5 is a modified two-box design. It's nicely rounded with a bit of carving, but you get the idea. Up front, the fairing, headlights, grille opening and Mazda badge all help define the van as part of the Mazda family. The same goes for the treatment of the tail. The Mazda5 GT sports LED taillights and quite a distinctive Mazda setup.
On the sides, Mazda had done what it could to make the van distinctive. The silhouette may be similar to others, but the design of the windows and the layout of the side trims let you know this is Mazda. In a small break with tradition, the Mazda5 side doors are sliders rather than opening in a conventional manner. Even without the electric assistance of the larger and more expensive vans, the doors open and close easily.
The front doors are generously cut to the side. At the bottom, the door opening is wide enough to slide your foot in without having to twist or twist it. At mid-height, the door is wider to accommodate a wide range of sizes and body shapes. Where the body goes, the head should follow, and the door is high enough that very few people will have to stoop to enter.
Once through the front door, you'll notice that Mazda has made seat height a priority. Not only can you pretty much just glide, but you're almost perfectly positioned for a comfortable ride. The height of the seat cushion from the ground places your legs at a comfortable angle when you put them on the brake and accelerator pedals. In the other direction, the seat cushion forms the basis of a very comfortable seat which holds you in place without being obvious.
The second row seats are about as comfortable as the front and almost as spacious. I found the legroom to be a bit tight with real large front seat occupants. The height of the backrest was good and the headrests were high enough to provide good protection.
If you're relegated to third row, you have a little less space than the other two rows and you better be at least average agile to be able to take a seat in the seat. I mention this because I've seen adults expect parents in their 70s and 80s to end up in third place, and I don't think that's fair.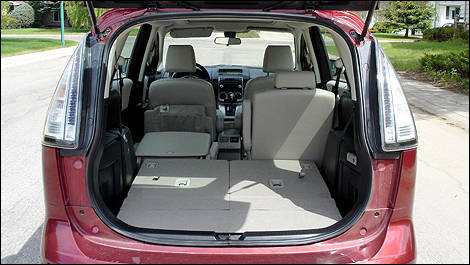 Folding the third row for grocery space is fine.
[ad_2]