Read Time:
6 Minute, 53 Second
The 2022 Toyota Sienna is an impressive minivan worthy of a spot on any family's shopping list. The Sienna is a roomy, family-friendly minivan that rivals the Honda Odyssey, Chrysler Pacifica, and Kia Carnival. With its standard hybrid powertrain, the Sienna is a frugal, if not exactly fast, choice with a comfortable ride, decent seats and the flexibility of optional all-wheel drive.
This year, Toyota is adding a quasi-SUV trim called Woodland that features a raised ride height and an exclusive cement color shared with the brand's Tacoma pickup. The Sienna is available in seven- or eight-passenger variants, all of which share the same clean, windswept exterior styling and car-style dashboard inside. The range runs from the base LE to the mainstream XLE, through the vaguely sporty XSE, the somewhat plush Limited and the fairly decadent Platinum trims, with the Wilderness perched above the XLE. All-wheel drive is optional across the range.
The 2022 Sienna is an elegant and out-of-this-world minivan. Minivans aren't known for their sexy lines, but the 2022 Sienna aims to change that. This van retains the familiar profile of its predecessor, but features more sculpted lines. It might look overdone from some angles, but at least it's clear Toyota tried to make it unique. In fact, Toyota used high-speed trains as styling inspiration, which we can easily see.
All trims except the XSE share most of the styling cues up front; this sporty model has its own bumper treatment and larger wheels. If the look is for you, go for it; we prefer the relatively conservative XLE and Limited for their nice balance of smart details that don't go over the top. This year's new Wilderness is pretty simple: it rides on high suspension, although its tires are the same size fitted to other low models. It's also available in just two colors: a gray hue shared with the Tacoma pickup and black.
The 2022 Sienna is almost fun to drive thanks to balanced handling and a smooth ride, though it can be a little slow. Toyota offers all-wheel drive on all versions of the Sienna, although it is standard on the Woodland. The Sienna's all-wheel-drive system consists of a second electric motor mounted on the rear axle, although there is no physical front-to-rear drive connection. Simple, efficient and not really off-road ready.
With 245 net hp thanks to its 4-cylinder and well-hushed electric motor, the Sienna is the slowest minivan on the market. Still, all minivans are pretty peppy these days, so the Sienna rarely struggles to keep up with traffic. The CVT largely works in the background to keep the engine in its powerband when needed and away from it to save fuel otherwise. We'd love to see the RAV4 Prime's Plug-in powertrain offered, at least for the extra 55 horsepower.
Most versions ride with a level of sophistication unmatched by rivals; slap a Lexus badge on the Sienna and Toyota could sell two versions. Likewise, the minivan's steering has good weight, which works well with limited body lean when cornering to deliver crisp handling that outshines any competitive SUV. The Sienna's brakes are also powerful and easily adjustable. That's something we can't say about most Toyota hybrids.
The 2022 Toyota Sienna is by far the greenest plugless minivan on the market. By minivan standards, yes. The EPA rates the Sienna at 36 mpg in all driving conditions with front-wheel drive. All-wheel-drive models are nearly as impressive at 35 mpg city, 36 highway, 35 combined. The only minivan to come close is the Pacifica Hybrid, though it hits its combined 30-mpg rating a bit differently. The Pacifica Hybrid offers 32 miles of electric range just on a full charge.
The 2022 Toyota Sienna boasts excellent crash test results and plenty of crash avoidance technologies. All versions feature 10 airbags, LATCH child seat connectors in the outboard rear seats (plus a fifth in eight-passenger versions) and a host of collision avoidance features including emergency braking automatic and adaptive cruise control. NHTSA rates the Sienna five stars overall, but with a frontal crash score of four stars. The IIHS claims the 2022 Sienna is a Top Safety Pick+.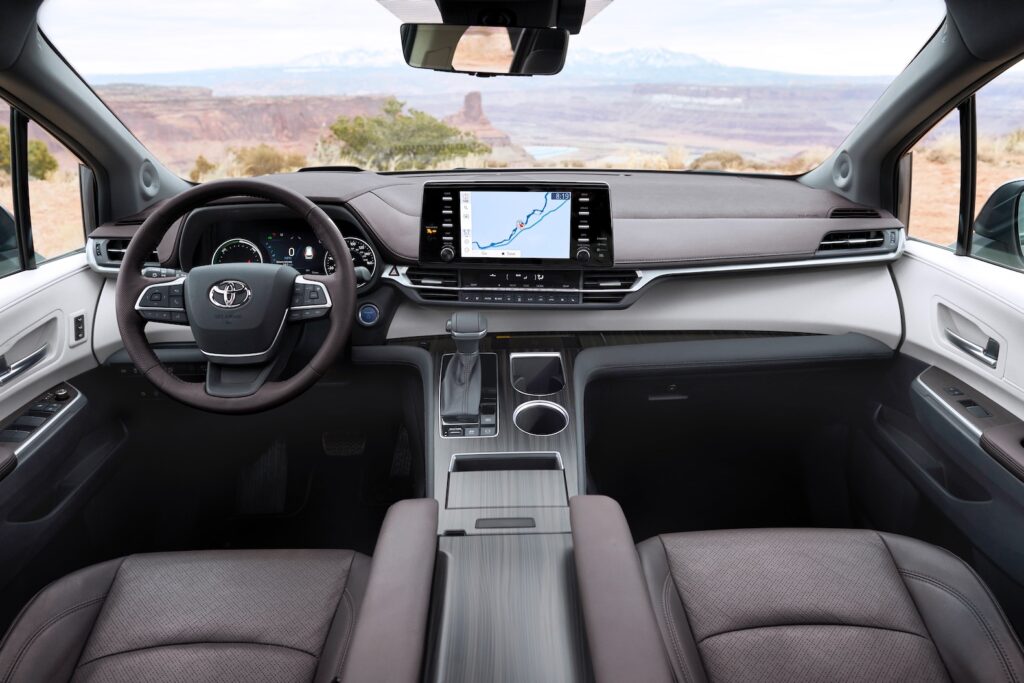 Inside, the Sienna has a low dash and a standard center console with plenty of storage bins for small items. A handful of faux wood trim lends a warm look to the interior. Platinum versions stack on more upholstery and trim hues. The Sienna isn't as roomy and neatly appointed as the Pacifica, but its seats are comfortable, especially in the second row, where the two thrones slide back and forth easily.
The 2022 Toyota Sienna has a well-appointed interior, although competitors advance in several ways. Available in seven- and eight-passenger configurations, the 2022 Toyota Sienna has a flexible interior with a pleasing design and good use of space for small items. However, it's not as impressive for cargo or third-row seating as some rivals.
The front seats are the best in the house, with good all-day comfort, heating on all but the base trim, and optional cooling. Outward vision is good forward, less to the rear due to huge roof pillars and small rear windows.
The rear sliding doors can be kicked open under the bodywork on some versions, revealing a low entry height and a pair of captain's chairs. The eight-seater versions have an extra seat between the modified captain's chairs which, frankly, isn't very comfortable. At least the outboard seats are nicely padded and can slide forward and back on a 25-inch rail to open up more legroom or cargo space, as well as facilitating relatively easy access to the third row.
The third row offers good legroom, but the bench seat is flat and the tiny rear windows will leave claustrophobic types eager to get to their destination. The third row folds into the load floor, although its manual mechanism (and not electric, unlike some rivals) may take some time to master. The middle seats slide forward to create decent cargo space, but can't be removed, a big miss in our opinion. A sheet of 4×8 plywood can be balanced on the folded second-row seats, but not on the floor like in the competing Pacifica and Odyssey.
Headroom is fine without the sunroof, but versions with that option as well as the rear entertainment system can feel cramped in the back. Storage of small items is good, especially up front. Second-row riders will have to search a little harder to find places to store drinks and other items. The materials are nicer than most seem, but overall the Sienna has the durable, easy-to-clean cabin we love to see in a family car.
The 2022 Toyota Sienna is well-equipped in all its forms, even if it is generally more expensive than its rivals. Its standard feature set is good, as is its infotainment. The base Sienna LE is probably good enough for most families thanks to its power sliding doors, 9.0-inch touchscreen with Apple CarPlay and Android Auto compatibility, and all of its collision avoidance gear. At around $36,000, it's a bargain, and it earns it an extra point.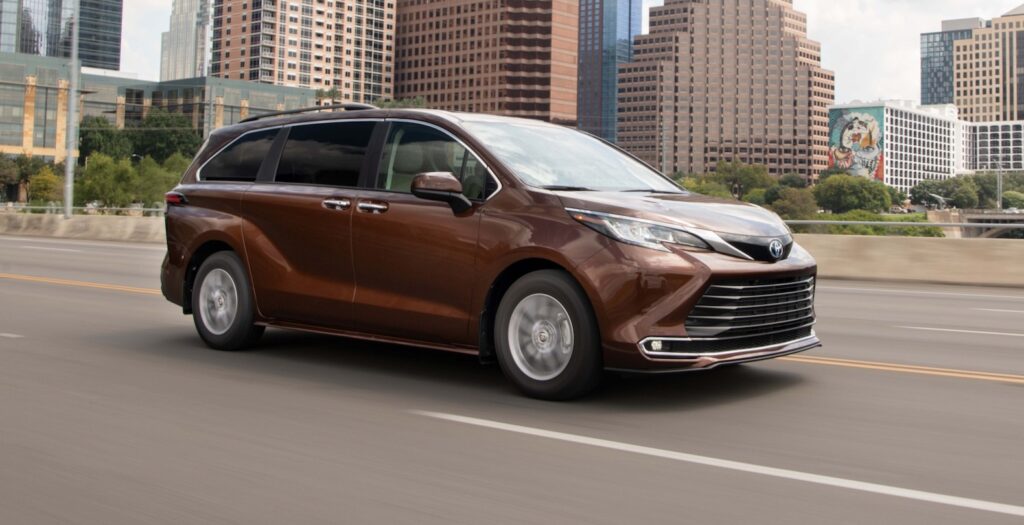 The XLE replaces fabric with easy-to-scrub synthetic leather, though it also includes a sunroof that can steal some headroom. Toyota wants around $41,000 for a base XLE, which is starting to get a bit pricey. With the Limited, Toyota trades in cooled leather seats up front, along with a navigation system, JBL speakers and a helpful intercom that projects the driver's voice to the third row. For a semi-plush model, it's priced decently at $48,000. The Platinum can fetch around $55,000, but it certainly doesn't feel as luxurious as that price suggests.
The 2022 Toyota Sienna remains one of our top picks in the minivan category by taking a slightly different approach. A standard hybrid powertrain, optional all-wheel drive, and luxury sedan ride and handling all contribute to its leadership position. Thoughtful features and impressive safety scores confirm this is the best Sienna Toyota ever made.